Class of 1967
Photos
From Steve Miller, Class of '67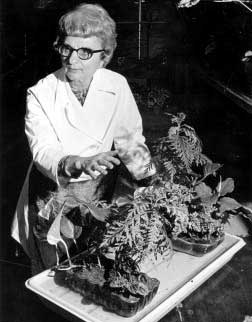 Junior Gardeners will remember this face! Dr. Barbara Shaluca started the program in conjunction
with the Bloomington Garden Club. It was modeled after a program in St. Louis.
Steve says:
Mrs. Lentz' Preschool was on North College, just south of the rail overpass. I believe the Tarzian family had something to do with establishing the preschool. This was the place where I developed a life-long love of pineapple juice and saltines as a snack -- or at least the saltines...
Some of the names here should be familar to U-schoolers. Not sure who took the photos, but Mom made some notes on the backs of the pictures. (The IDs on the Pizzo boys may be reversed.)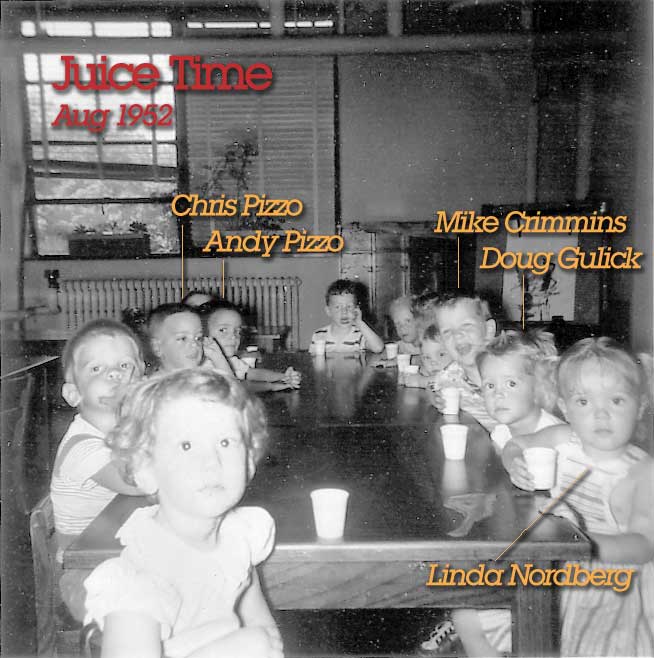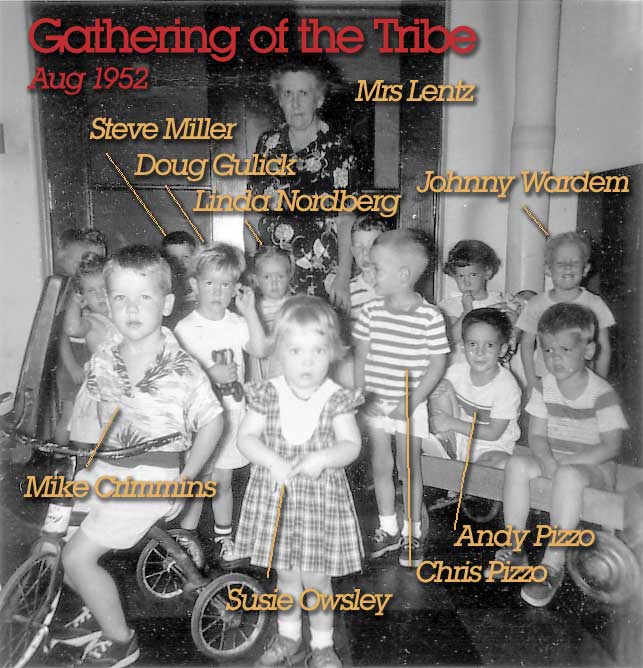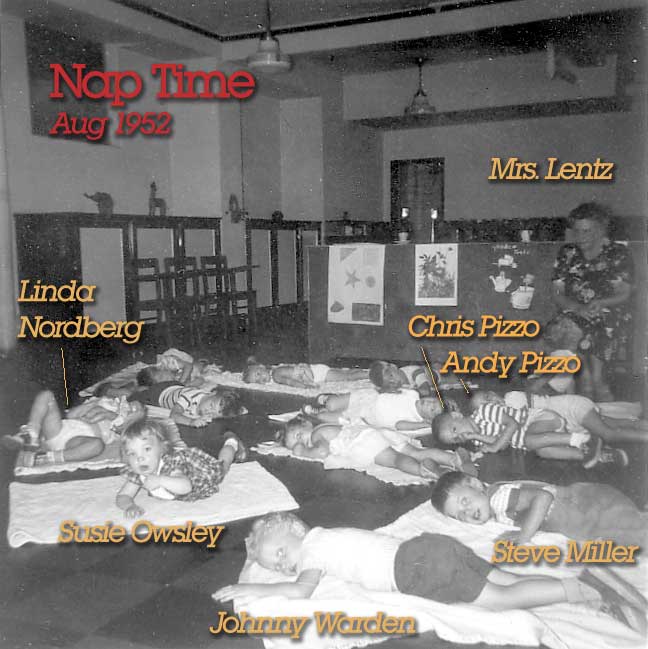 Steve also shares these artistic photos.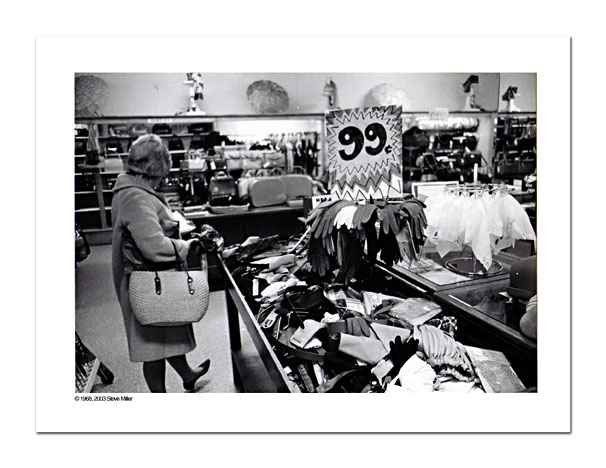 The Bargain - was shot in Wicks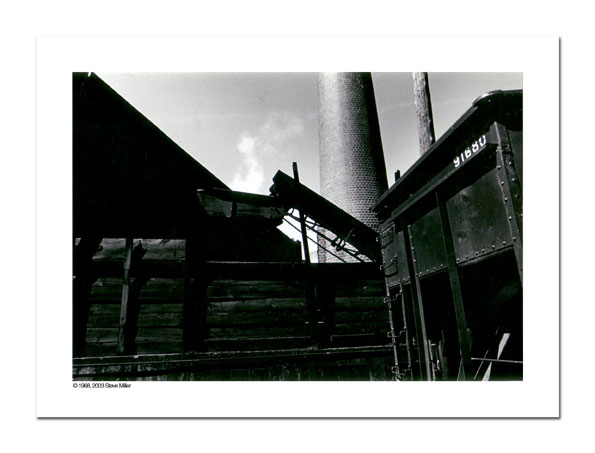 Stacked is the Johnson Creamery smokstack, viewed from the rail tracks to the east.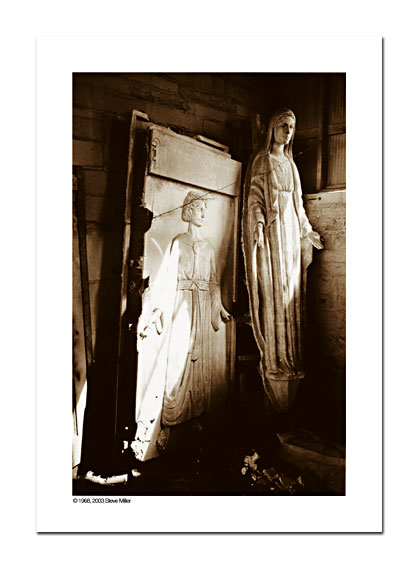 Finally, Patience was shot in an abandoned limestone mill south of Allen and west of Walnut
-- someplace in there, anyway. These were plaster studies for some exquisite carving.

This photo was taken from the sixth level of the parking garage at the Bloomington Hospital about 6 PM.
Wait a minute! The Bloomington Hospital has a parking garage? Six levels?

Yes, it is "Boomington..." I'd never seen the town from quite this perspective. What seems so far on the ground seems so close from high.
There are quite some changes in elevation, too -- more evident to the eye than to your calves as you trudge east on Third Street.

What can't be seen so well in this shot, but can be scene clearly in person by an observer is the backside of the rehabbed south side of the town square.
Just to the left of this picture stands the Van Orman Graham Building, with two new multi-story buildings to its north, standing where
Benavole Lincoln Mercury and the Sarkes Tarzian Rectifier plant were once located.
Photos which appeared in the
Bloomingon Herald-Telephone
Tuesday, May 24, 1966
UHS Post-Prom Party Takes over IMU
Submitted by Steve Miller, Class of '67
Included with permission from the Bloomington Herald-Times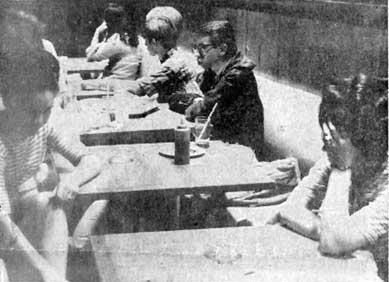 SITTING IT OUT--Frugging and watusi-ing may be fun for a while, but they lead to aching heads and feet.
Several UHS students like those above finally gave up and were satisfied to watch from the sidelines.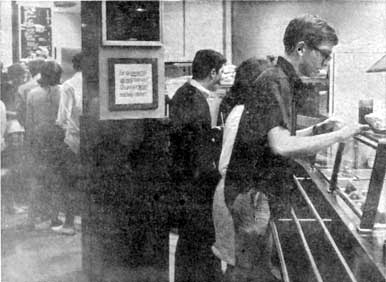 Others preferred to eat, forming a steady stream of hungry nightowls through the Commons cafeteria.
Snacking went on all night, and breakfast was served at 4:15 a.m.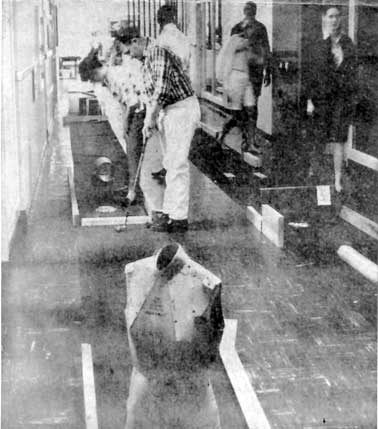 The Indiana Memorial Union Arcade became a miniature gold course with some mighty strange obstacles,
such as the seamstress' mannikin in the foreground above. Skip Pettebone aims a careful putt.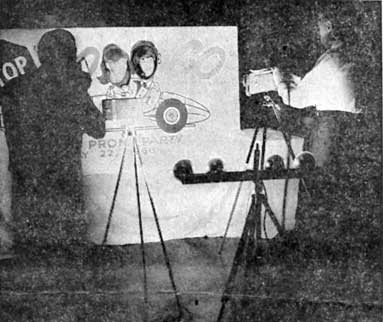 Grant Faris and Ann Bly pose for comic souvenir pictures.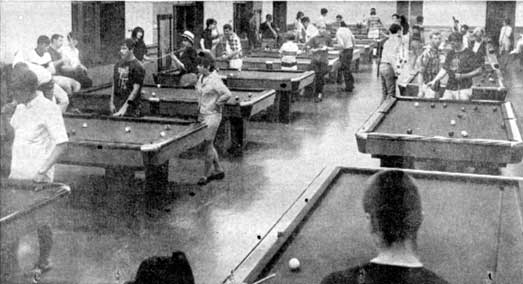 The billiard room, no longer a male sanctuary, proved a challenging attraction for girls weary of dancing.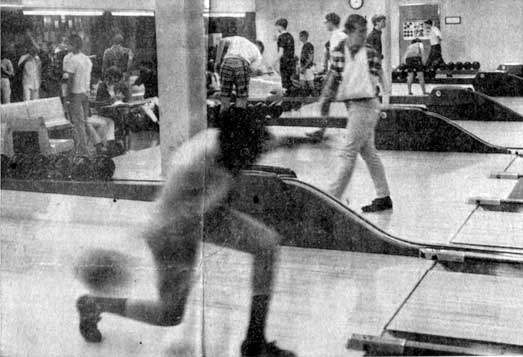 DANCING WAS TOO TAME for those who relished the sporting competition offered by bowling.
Even a broken arm didn't stop the fellow in the second lane above.
(Ed. note: "the fellow" is Larry Jacobs. Rumor has it he's Bloomington's current postmaster. Just for fun, how many of theses photos can you find him in?)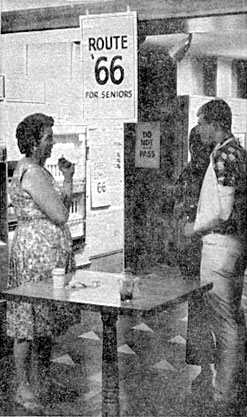 Mrs. Mayer Maloney, co-chairman of the event along with her husband,
stops to chat with Larry Jacobs and his date at the entrance to the
sixth annual UHS Post Prom Party. The girls had changed from their
sophisticated prom formals to more comfortable slacks and shorts.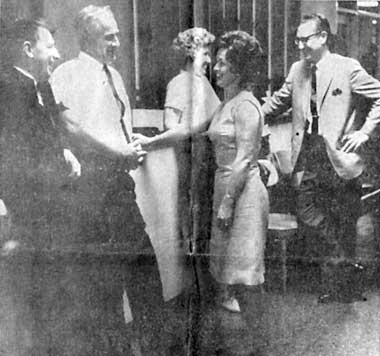 PARENTS HAD FUN, too, even if they found it less thrilling to be up all night. Mrs. Kenneth Rumple,
second from right, gave up dignity for comfort and kicked off her shoes. Applauding her courage were,
left to right, Charles Faris, Mr. Rumple, Mrs. S. G. Chris Savage, and Judge K. Edwin Applegate.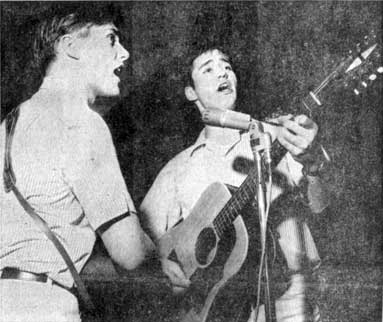 Bob Hildreth and Joe Peterson, the "Overland Singers," entertain with folk songs.
They have performed with the Singing Hoosiers.